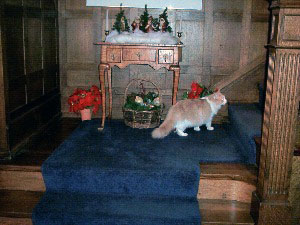 IVAN has become our mascot. He was the first Siberian this group worked with. He was discovered on the pet finder web site as a Siberian in need of a home. A simple e-mail to the shelter told us he needed our help. He was surrendered along with all of the family pets by a family who could no longer care for their beloved animals. He had been in the shelter for 2 months, all his other animal family friends had been adopted. He was just waiting and waiting for a new family. A wonderful family opened their home and heart to IVAN. He took a long time to adjust to the people in the home and then he had to meet his new Siberian friends who also lived there. But as you can see he has adjusted well. He enjoys belly rubs and watching the squirrels outside the window and of course cat naps. We thank Ivans new family for their patience in bringing this beautiful Siberian around to being a very much loved pet. Rehomed 2002.
---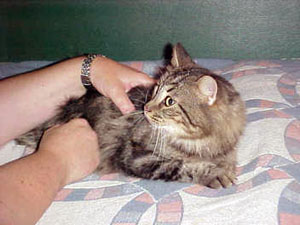 This is Sam and without the help of our volunteers no telling where this boy would be now. One of our volunteers drove 8 hours one way to bring Sam and 5 other Siberians back from a puppy mill auction and then the same family fostered all 6 Siberians from this auction until they could be altered, " fattened up" and placed in loving new homes. Sam is now living in Maine as a single kitty living a happy pet life-style he never knew until now. He has developed a knack for opening cupboard doors. He has also learned to walk on a leash and to hunt a few falling leaves for fun. Rehomed 2002.
---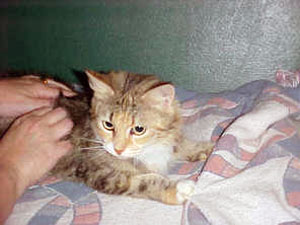 "Trixie" came to SCRG with a single nursing kitten. She nows lives in Texas with a great family of 5 and her Siberian friend, Petey. Trixie is another example of a rescue kitty needing a great amount of time to adapt to being a pet. Her prior life consisted of being a breeding cat. But her owners report she has turned into a very nice kitty as you can in her photo she is very very relaxed. She has also adapted to a dog in the house. She was given the proper amount of time, love and patience to overcome her past life. Rehomed 2002.
---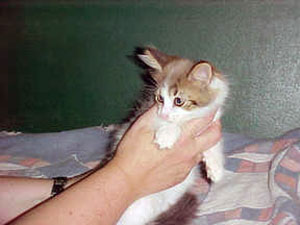 Hi I am KOTO !!! I have a great new fur ever home in Masscahusetts with some Siberians to play and with some Siberian wanna-bes too. I came to SCRG along with my Mom - Trixie - from the puppy mill auction. I was pretty sick too, but I am all better now. I am sure glad I got rescued. I am a bit feisty and have an attitude but I also have lots of toys and a bed to sleep on with my human and the other cats. I like it here. Rehomed 2002.
---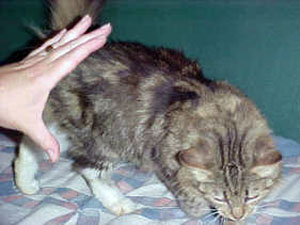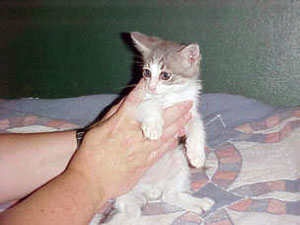 Gidget and her baby BZ now live in Texas. They have a wonderful home with their own boy to play with. Gidget and BZ were placed together on purpose. BZ has a real strong attachment to his Mom. When she went overnight to be spayed he became very depressed. When she returned he turned into a velcro kitty and would not leave her side. SCRG knew they had to be placed together and the adoptive family in Texas were thrilled to take little BZ along with them. These two kitties also came from the puppy mill auction and when they arrived BZ was very very ill. The foster Mom and her vet really worked to pull him through . Medications and fluids were available when the cats arrived into foster care and the vet was on stand by. SCRG wants to extend our thank you to this vet and his foresight to have these necessary medical supplies on hand. Rehomed 2002.
---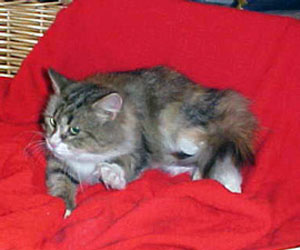 Beautiful Miss Priss She was the oldest of our Missouri rescues and took some time to come around but she is a love as her family tells us all the time. We were saddened to learn recently that Miss Priss has gone to the Rainbow Bridge. We are grateful to her family who made her latter years her best years, from living in a cage and being a kitty mill breeder cat to sleeping on the kids beds. She will be missed by all who knew her. Our thanks goes out to her family for showing her, if only for a short period of time what it is like to be loved and well cared for. Rehomed 2002.
---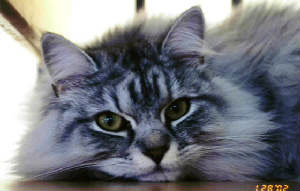 ZOE came to us through her previous owner to find a no other pet home. Zoe had had some litter box issues when she lived with other animals. The owner loved her and wanted her to be happy. But knew she was not happy in her home. A wondeful couple from New York traveled to see Zoe and it was love at first site for all of them. Zoe now lives in New York as an only cat. She is a very special kitty and does not like change. Her new owner discovered Zoe is a creature of habit and some what of a prima donna. Rehomed 2003.
---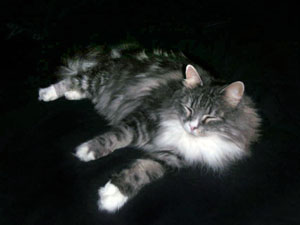 Morgan was having difficulty in his previous home due to a family members illness. His then parents felt he needed a home where he could get the attention he so wanted. This is a difficult decsions for a family to make for a pet they truly loved but this type of love and unselfishness is what makes a true pet owner. They are very aware of what their pet needs to be happy despite their own personal sadness. Morgan aka Timmy is now very happy in his new home in California. His new parents adore him and as you can see by the statement below from them he adores them right back. SCRG thanks our foster Mom Eve for keeping Morgan with her while we found the purr fect home for this guy.
Timmy (Morgan) is a sweet boy who loves flopping over on his back and having his tummy scratched, playing with his fuzzy mouse on a string (its so cute how he jumps around like a madman after it one second and then the next second is too bored or too cool to even look at it), staring out the window and watching the world go by, waking me up in the middle of the night by purring and kneading my scalp (luckily he is only done this a few times!), and being an only cat (so he doesnt have to share our attention). Rehomed 2003.
---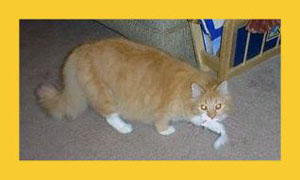 Basha now known as Franklin came to us in Georgia. He was just a youngster then and had 3-4 homes already. He was fostered for awhile in one of our foster homes in Georgia ( thanks Pat & Bill ) but was transferred to another foster home in Arkansas where his foster family decided he needed a name change and he then became Franklin. Franklin may be a typical example of why declawing is not a good practice. He was very withdranw and would bite, but with some TLC he started to come around and enjoyed his foster home so much the foster family decided they needed to let him stay with them. So Franklin now lives with many Siberians in Arkansas. Rehomed 2004.
---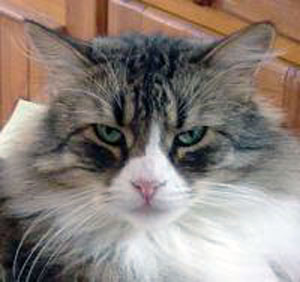 Dax, Janeway and B Lanna are litter mates. They were rehomed by SCRG due to the owners illness. This was a very difficult decision for this owner and the welfare of her kitties was her first concern. SCRG is here if this should ever happen to you or your Siberian. Please let your family members know that there is a Siberian rescue group able and willing to assist if needed. Rehomed 2004.
---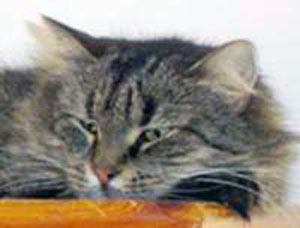 We are happy to say Dax and Janeway went to the same home in Coloroda. They are only pets and spoiled rotten. Rehomed 2004.
---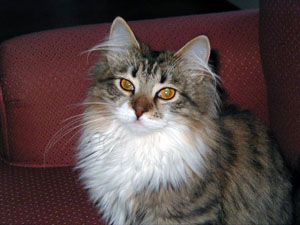 Kiska was fostered in Maine and I had the privilege of having her with me for about a month. She is now adopted to a wonderful family in Maine where she rules the roost Kiska style. She lives in a big old farm house she thinks is her own. Rehomed 2004.
---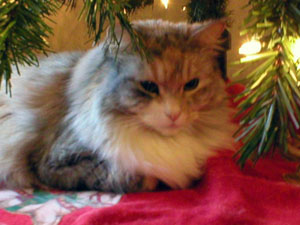 Nikita came into rescue when her caregiver remarried and one of the children was very allegic. It is hard to have to place any animal but when you have had her for many years it makes it even harder. Nikita will always have the love of her past family but their kindness to her has allowed her to move to New York where she is able to be the only kitty. She is settling in nicely & has the loudest purr which I heard over the phone. Rehomed 2004.
---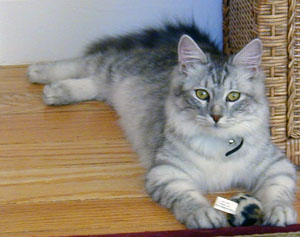 Beautiful Sofia came to us in December 2004 and was placed into a new foster home in Massachusetts. Well she turned on the charms and we are very pleased to say Sofia has a fur ever home with her foster Mom. Despite the fur mice in the bed in the middle of the night Sofia has found a friend for life. We thank her foster Mom for taking her in for us and for now giving Sofia the home of her dreams. Rehomed 2005
---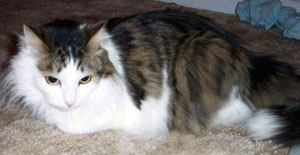 Tovi was an owner surrender and has found a new home in Texas. He came to foster care rubbing and purring and left with his new family the same way. Rehomed 2005.
---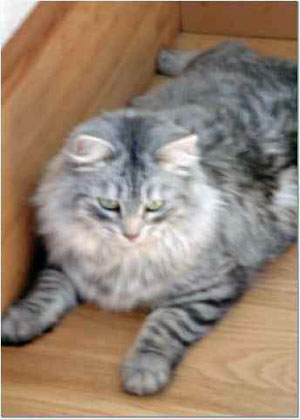 Katinka's new family are delighted to have this beautiful silver tabby Siberian share their home. Katinkas previous owner due to health reasons found it necessary to rehome this kitty. Although a hard thing to do her major concern was for Katinka. Katinka arrived in Maine with her new family members anxious to get a glimpse off this girl. She was sitting in her carrier looking all around and took very little time to become the queen of her new domain. Rehomed 2005.
---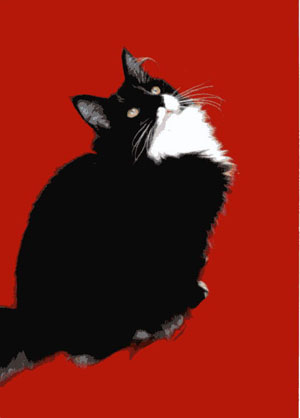 Jinx has been renamed Luca and has found a wonderful home in New Jersey. He is an only cat and appears to have become the king of his household. He gives kitty kisses bit the new family says he has a terrible habit of wanting the all up for the day at 5:30 AM. Rehomed 2005
---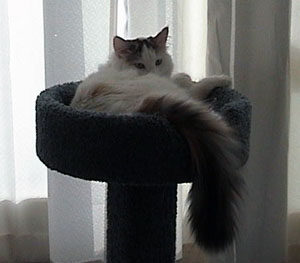 Minnie has moved to the " big apple". After trimming her figure in our foster home Minnes new Mom hopped on a plane to pick her up in person. She is now a new slimmer kitty living the life of Riley in her new home. Rehomed 2005.
---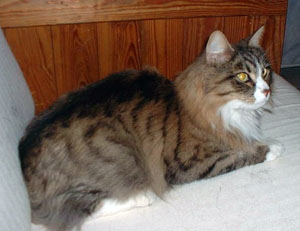 Skye is a beautiful 4 year old male. He was located in a shelter and through the thoughtfulness of one of our helpers pulled and placed in our foster care. He has been adopted and will be sharing his new life with Daisy , a Maine Coon rescue kitty, who just adores him. His new Dad fell in love with Skye at first site, and after getting the OK from Daisy , Skye moved in !!! Rehomed 2005.
---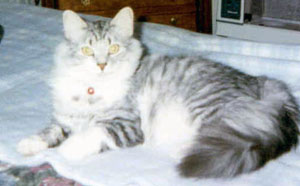 Well I moved to Maine along with my brother Igor. We are very happy together and help run a small motel. Rehomed 2005.
---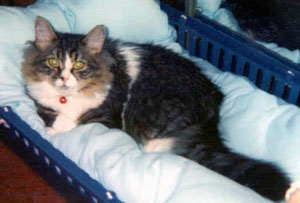 Ditto on what Yuri said. Our new Mom is great - we are so happy we could stay together. Rehomed 2005.
---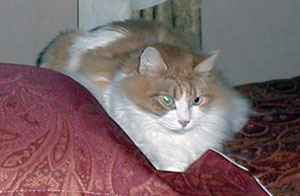 Buddha came to us as with an agression problem to the other pets in his home and needed to be an only kitty. We are very pleased he has found just that home. He is an only pet with a wonderful couple in Maine who says he takes up most of the bed and constantly wakes them during the night for head butts. Rehomed 2005.
---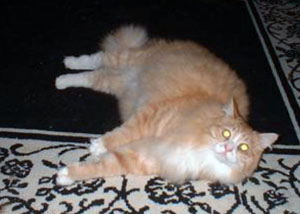 Mica & Pavla came to us from a home where a child was allergic to them. They are both very beautiful kitties. Rehomed 2005.
---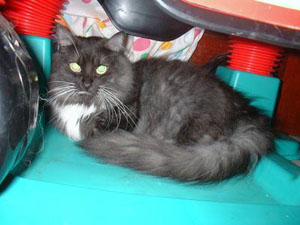 Once again we were able to keep two kitty friends together. These guys now have a very loving new home together. Rehomed 2005.
---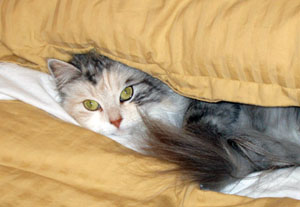 Kali has arrived in Maine - she spent her first night on her new owners bed. She is living with rescue kitty Kiska. Rehomed 2006.
---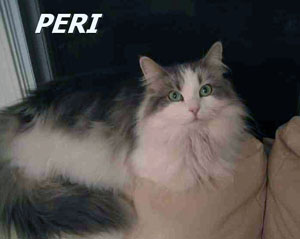 Peri is a queen !!! She is living in a wonderful new home in NH. She is an only pet and loves her new life. Spoiled would be a good word to use for this girl, and she deserves it. Rehomed 2006.
---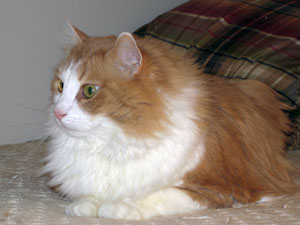 Woody has found his home. He has decided he liked his foster home so well he would stay. He is a joy to have and a real character to live with. Rehomed 2006.
---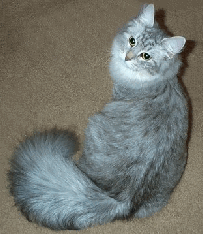 Anastasia has found her self a wonderful home and has made a new friend with the families existing shelter cat named Chloe. Rehomed 2006.
---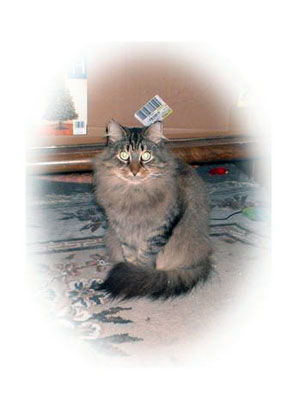 Handsome Pride decided his foster home would be his new home. He has new Siberian friends in his new home including another Siberian rescue kitty named Koto. Rehomed 2006.
---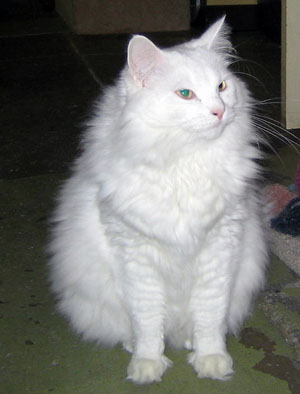 Franklin has found a special lady that he just adored on their first meeting. He spent his first night in his new home curled up on her pillow. Rehomed 2006.
---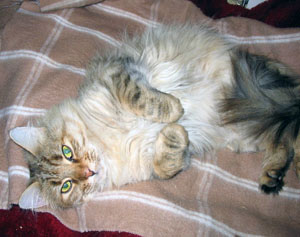 Sweet Nadezdha has found a perfect home where she is the only pet. After healing from severe injuries from a house fire, this girl has not only found herself a wonderful loving new home but a new human Grandmother who dotes on her as much as the new owner. Nadezdha taught her foster home the true meaning of over coming anything to be the sweet Siberian she always was. She holds a special place in my heart. Rehomed 2006.
---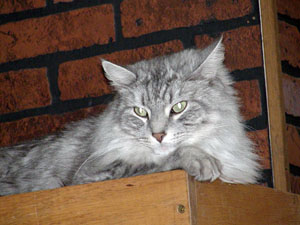 Sascha is a beautiful silver boy with a mind of his own. He has moved in with an awesome lady who knows to give him his own space when he wants it. He has turned into a wonderful family friend. Rehomed 2006.
---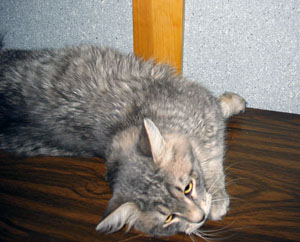 This is Jackson; he is a beautiful silver tabby and has found himself a home with a family that has taken a special role in is health and in his life. He was also a rescue from a house fire and he had some issues to deal with. But he is doing well and continues to enjoy his new life and new family. Rehomed 2006.
---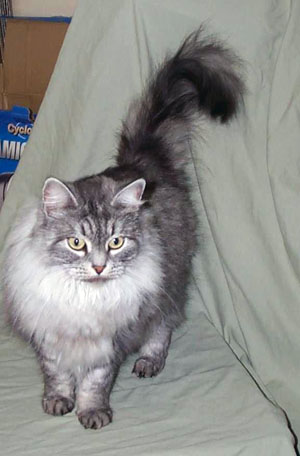 Roxy is now a Texan. She has moved in with a wonderful lady and her son, she was purring and ready to take over from the minute her carrier was opened. Rehomed 2007.
---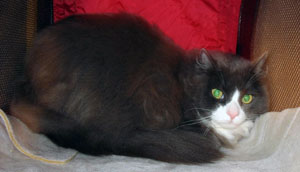 Well I got my wish, I am an only kitty with a lady who just adores me. I love my new home and had an easy time adjusting to it. Thanks SCRG for finding me a great new home. --Smokey Rehomed 2007.
---